Shafi an aeronautical engineer turned digital marketing strategist. He was exposed to digital marketing at the age of 24 as an alternate career growth path and today he heads a team of 50+ people.
Do you know for how many years he has been working as a digital marketing expert? 6 years only. And, he earns 5 times more salary than he could have earned being an aeronautical engineer.
This has happened with thousands of individuals in the past few years. With every passing year, the demand for passionate digital marketers is growing and many have taken the Freelancer route. In terms of demand, there are currently more than 12,000 pages of results on Indeed for the keyword 'digital marketing', with an average salary of INR 3,50,000 (and a high of INR 800,000). 
Also, for the same keyword 'digital marketing' on Naukri.com, we found 20,000 jobs currently in India with the most jobs available in Delhi followed by Mumbai, Bangalore, and Indore.
Beyond this, LinkedIn has a total of 16,377 whereas Shine.com has over 6500 jobs available in digital marketing.
In this guide, we will help you with a step by step process to build a rewarding career in digital marketing. It took us a good amount to time (16 years to be precise) and effort to realize what exactly the industry expects from a digital marketing practitioner. In these years, we hired hundreds of digital marketing resources with diverse backgrounds and skillsets, from a fresher with no experience to a senior who has worked with 5-6 different companies and has an experience of over 10 years.
Before we move ahead. You need to answer the following questions in yes or no? (grab a pen and a paper quickly). We will come back to it towards the end of this article.
Do you have a LinkedIn profile?

Do you understand and write in English?

Do you find yourself creative?

Do you have friends who are digital marketers?

Have you started learning by yourself yet?
All the companies and industries around the world are going towards digital and by the year 2020 they will have an online presence, thus it will create huge career opportunities. According to the research, compared to the traditional economy, the digital economy is growing 10 times faster. It is a progressive field technology is changing day by day, you need to continuously develop your skills to grow your career. 
One of the highest positions in the field of Digital Marketing is a Digital Marketing Head/Manager/VP. Unlike traditional marketing positions, in digital marketing, you need a minimum of 5 years of experience and balanced exposure to SEM, SEO and SMM along with an understanding of creative design, automation, and analytics. A Digital Marketing Head generally looks after the overall marketing mix and ensures that his/her team meets the KPIs associated with the expected business outcomes.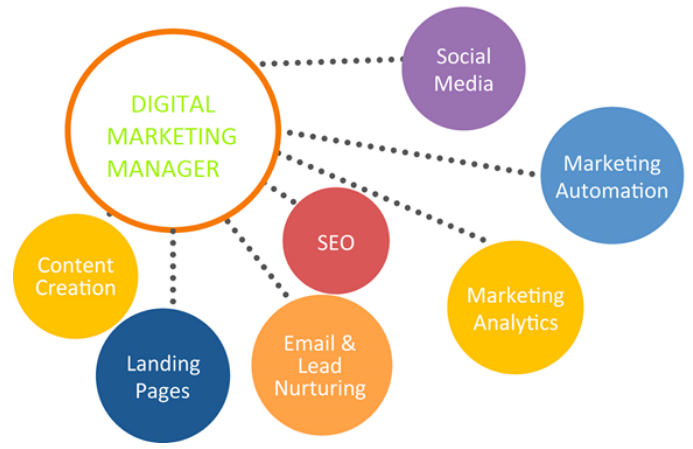 Why Digital Marketing after all?
According to a news update by Time of India, India will cross 730M Internet users by 2020. Interestingly, over 75% of new user growth will come from Rural India driven by Mobile Phones. India will continue to remain the fastest-growing country in terms of internet users' growth.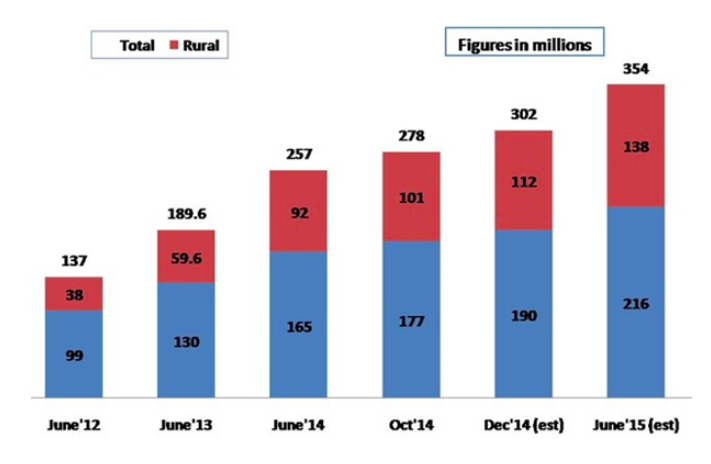 Digital Media Spend in India to cross Rs 19,000 Crores by 2020: According to Economic Times, Digital advertising to grow at 32% CAGR to reach Rs 19,000 crore by 2020. The primary factors for this growth include the growing penetration of smartphones and lower data tariffs.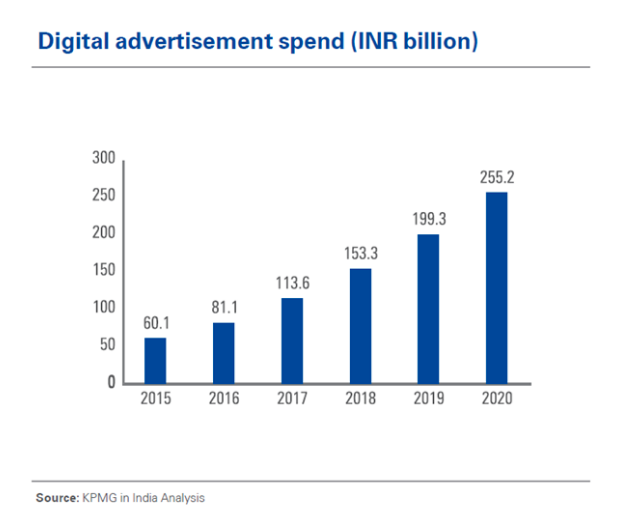 The Career Options in Digital Marketing
Digital Marketing provides numerous opportunities across domains. The most common verticals are – Search Engine Optimisation (SEO) Analyst, Social Media Optimisation, Social Media Marketing, Web designing, Content writing, Search Engine Marketing or PPC Expert, Creative Designer, Video Production Specialist, Digital Marketing Strategist, etc.
How much money you will be able to earn?
There is no absolute number, which means it depends on various factors. Listing down some of the common factors and its impact on the salaries you might be scoring.
Location: Companies in Tier I cities will pay you 40-70% more than Tier II and III cities. Opportunity wise Bangalore, Mumbai, Delhi, Hyderabad and Gurgaon are the cities with most opportunities in terms of numbers.
Team size: Unfortunately very few agencies in India have a team size of 200+ and hence opportunities in these organizations are relatively less than that of product and service-based companies. However, with the growth of digital, even smaller companies are hiring full-stack digital marketing experts and paying well.
Agency or Product/Service Company: If you wish to grow faster and have the tenacity to work long hours then agencies like Webchutney, Pinstorm, WatConsult, Gozoop, Intellemo, EveryMedia, Social Wavelength, Phonethics, TechShu, etc are the best platform to learn and grow faster. The reason for being a diversity of projects managed by a smart team with varied skill-sets. Alternatively, if you wish to work on a single project wholeheartedly then a product or service-based company can be the right fit for you. Also, in this kind of an organization, the exposure is limited. Hence, you should consider working for an agency in the early years of your career and move to a product or service-based company after at least 4-5 years for an exciting salary package.
Exposure to Projects: Having an understanding of digital theoretically won't be enough, you need a hands-on experience with the channels. The more diverse industries you work on, the better. If you have a portfolio in a specific industry then you will be preferred over others for that industry. 
Past Salary: This factor is equally important and will be considered in the hiring process. However, it also depends on your negotiation skills and the needs of the organization at that point.
Here are the 5 Most Common Positions for which you can be hired in this domain.
Search Engine Optimisation (SEO) Analyst
SEO guys are the ones who are responsible for getting traffic to the website by improving the ranking over the search engines. They make sure the website is optimized and device friendly with all proper links and submissions of blogs and articles to increase the traffic and session on the website.
Avg Salary – Rs 2.5 – 6 Lacs per annum
Social Media Optimisation/ Marketing
Social Media Executive or Manager are the guys who handles social media platforms such as Facebook, Instagram, Twitter, Pinterest etc. They keep follow all kinds of social media and keep them update regarding social media trends, coordinate with the copy & designing team.
To be in such a position you should have sound social media platforms knowledge and full of a creative mind that helps to increase the reach and engagement. 
Avg Salary – 3.5-7 Lacs per annum
Search Engine Marketing or PPC Expert
They are the one who generates a lot of leads/inquires for business growth. Few are the major responsibility they take care of keyword research for ad copies and search volume, managing ad groups, ads optimization, optimizing landing pages, generate analytics & reports and coordinate with the designing team. 
For those who have a good analytical mind, SEM is a good digital marketing career option for them
Avg Salary – 3.5 – 5 Lacs per annum
Content Writer & Content Marketer
A content writer, need to work with the SEO team for creating the optimized and keyword-rich content.
If you want you can also work on a project basis or as a freelancer. As the content requirement increased drastically this profile is in hot position. You should have a good command and hold on language with the creativity in the thought process.
Avg Salary – 3 – 5 Lacs per annum
Web Developer & Web Designer
To be a website developer you will for coding and maintaining websites. To running the amazing website smoothly you guys make sure of it. Web designers are the ones who create wonderful websites with proper presentation, UI/UX and keeping in mind the customer journey. 
Avg Salary – Rs 3 – 5 Lacs per annum
Once you have the knowledge of digital marketing based on your interest and experience, you can work in either of the following organizations.
Digital Marketing Agency: There are multiple size digital marketing agencies, who serve multiple kinds of digital marketing services such as SEO, SMO, SEM, etc. Even the traditional and old advertising agency are forced to offer the same services. If you will be working with such agencies, you will get an opportunity to work with multiple clients and get exposure to multiple industries.
Big brand with in-house Digital Marketing team: You can also work under a particular brand or an organization that actively do digital marketing for the growth. Here you need to work under a small digital marketing team.
Digital Marketing Tool/Platform developing/support Company: You can also grow in your career in digital marketing by working for tool or platform companies such as Google, LinkedIn, Facebook, SEMRush, FanPageKarma, Similar web and many others. The working style will be very much different as compared to agencies or under a brand, here learning and analysis thought is a huge factor.
While having a conversation with Aji Issac Mathew, CEO | Indus Net TechShu (eastern India's largest digital marketing agency), we tried to understand how he built his own digital marketing agency and how he started his career in digital marketing with literally ZERO understanding of digital.
As it's a grooming industry, employers on a global scale are looking for skilled employees that can fill the gaps in their organizations and take the same to the next level. In case you are a fresher or an experienced professional who wishes to grow faster in this booming industry, here is a quick video for you to have an understanding of the reasons why digital marketing professionals fail even after having an experience.
If you remember, we started this article with a couple of questions. Here is what you are going to do:
Do you have a LinkedIn profile? – Create a LinkedIn profile if you don't have. Get help from this link –

https://www.themuse.com/advice/the-31-best-linkedin-profile-tips-for-job-seekers

Do you understand and write in English? If you are not confident enough to write and/or speak, follow this guide

https://www.abc.net.au/education/learn-english/five-ways-to-improve-your-english-by-yourself/9085604

Do you find yourself creative? If the answer is yes. Excellent. If the answer is no, then ask yourself how you can be creative. Do some research on this topic, you will find plenty of articles and YouTube videos on this.

Do you have friends who are digital marketers? You must have, even if you don't have such people as friends, identify and connect with some on social media (preferably LinkedIn). Ask them about the sources and communities where you can find engaging conversations around digital.

Have you started learning by yourself yet? No? Don't worry. We've got your back
Join one of our courses which will not only help you with the knowledge but it will support you with paid internships and jobs as well. To know more about the course, visit https://www.digitalmarketinguniversity.com/digital-marketing-foundation-course
If you have any queries beyond this, you can always connect with a Career Growth Consultant by sending us an email at support@digitalmarketinguniversity.com or +91-9830828822