Why Voice Search Now?
The way people search for information online is changing. Increasingly, people are using voice search on their smartphones, tablets or voice assistants (like the Amazon Echo or Google Home devices) to search for information on the internet. Siri is your best friend if you're using an Apple device, Google voice search is popular on Android devices and Microsoft's Cortana is useful on your PC and smartphone using their app.
According to Mary Meeker's Internet Trends report in 2016, voice searches increased more than 35- fold between 2008 and 2016. According to Location World, more than 40 percent of adults used voice-based search on a daily basis in 2016. And predictions by ComScore estimate that more than 50 percent of searches will be voice-based by 2020. Digital assistants also make the process of voice searching easier, inviting more people to the system. As more people start using voice search and it becomes more "normal," the percentage of the population using voice search also climbs. Content curated via Forbes
How is Voice Search going to help your business?
One of the biggest changes we've seen in search in recent years has been the advent of heavily personalized web browsing. Google pioneered this by combining its various disparate services and products into a single, cohesive user profile system that allows Google to provide users with a more unique, granular, and individualized browsing experience (well, that was the plan, anyway). This has given rise to (yet another) marketing strategy – people-based marketing, a remarkably powerful technique despite its uniquely awful name.
People-based marketing is, as its name suggests, a marketing methodology that allows advertisers to target users based on who they are, rather than purely their behavior. As Google learns more about us, we could see a profound shift toward increasingly personalized marketing based on not only our browsing history and shopping preferences but even our voices.
How to implement Voice Search?
Google Voice Search and similar technologies "learn" to recognize voice commands and keywords through what is known as natural language processing. This means that, over time, Google learns not only the unique characteristics of your voice and the way you speak, but also your behavior, browsing interests, and other personal information.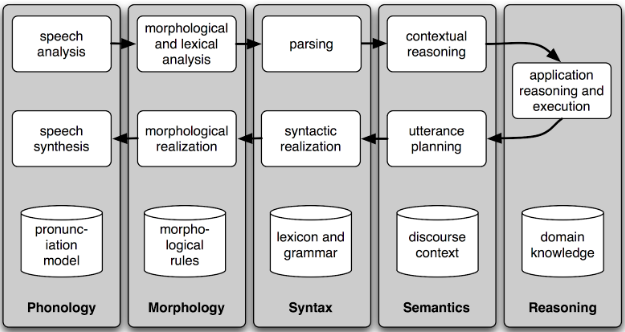 Before you think of implementing voice search, consider these points:
Audit your current strategy.
Take a look at your current strategy. How much effort are you putting into voice queries and long-tail keyword phrases? It may be time to redistribute your funds and emphasis.
Brainstorm new keyword targets.
Pay close attention to your keyword strategy. How many of your targets are head keywords, how many are long-tail keywords, and how many are general topic targets?
Consider fighting harder for top spots on a handful of key SERPs, while forgoing the battle for keywords that aren't as important to you.
If you aren't already investing in local SEO, now's the time to start.
Rethink your advertising game.
If you use PPC ads, you may need to rethink your approach; soon, consumers will start interacting with your ads differently, and you may need to upgrade your targeted advertising to a different format.
Prepare for more changes in the near future.
The most important thing you can do is prepare yourself for more changes down the road. We still don't know exactly how a voice search revolution will manifest, so it pays to remain open to the many changes to come.
In order to prepare for the effect voice search will have on B2B SEO, digital marketers need to start optimizing for voice queries. The three major ways to achieve this are:
Target long-tail keywords
It's a fair assumption that voice queries are more likely to be longer than that of a typed search and use a conversational language. To prepare for voice search, find long-tail keywords that are relevant to your business and put them in your website's content to attract more natural language search queries.
Direct attention to mobile
Voice searches are more likely to occur on mobile devices, so optimizing your company's website is extremely important. But optimization goes beyond a mobile-responsive design. You also need to remove obtrusive interstitials, improve page loading speeds, format videos to display in full-screen when a user holds it vertically, abandon drop-down navigation menus, and improve the overall mobile user experience.
Voice search devices read featured snippets and the source aloud when the snippet is populated. This creates a massive boost for authority and brand recognition since Google is basically declaring one particular company the expert on that particular subject. In retrospect to voice search, position zero is the new page one.
Content curated via Forbes and Forbes
Biggest trends in Voice Search
2017 saw the launch of Home – Google's voice-activated speaker powered by the Google Assistant and also the integration of Google Assistant into our TVs. December 2016 saw Amazon's Echo products become their most popular product over the holiday period. According to Google, their Assistant is now available on more than 400 million devices, including speakers like Google Home, Android phones and tablets, iPhones, headphones, TVs, watches and more.
50% of all searches will be voice searches by 2020" according to ComScore.
About 30% of searches will be done without a screen by 2020.
We estimate there will be 21.4 million smart speakers in the US by 2020
By 2019, the voice recognition market will be a $601 million industry", according to a report from Technavio
28% think voice search is a more accurate way of searching" via Katherine Watier
43% cite that using voice search is quicker than using a website or an app" via Katherine Watier
Actionable insights
As you can see, voice search is growing and has wide-reaching implications. It is especially important for SEO and to be found out by customers. If you are not using voice search, you risk being neglected or overlooked by most customers today. Thesis a trend that will pick up more steam as we trudge along, and you really should not be ignoring voice search at any cost. If you would like to learn how to implement voice searching your business or website, now is the time.
As more people depend on Siri and other voice search tools, you will have to adapt or perish. Implementing voice search will not only save your business but will also help it to fight competition and grow more successful. Certainly, there is no time to waste, and now is the time to adopt voice search.
"We are now witnessing a new shift in computing: the move from a mobile-first to an AI-first world."