About this course
Digital is growing at a spectacular rate of 30% every year and the demand for quality digital marketing resources is higher than the supply. If your career is not growing as fast as the industry, introspect yourself and take help to accelerate. We help you build strong hands-on expertise on various aspects of digital marketing.
This Digital Marketing Foundation Certificate course explores several aspects of the new digital marketing environment, including topics such as search engine optimization, Google AdWords, social media marketing, web analytics, UI/UX design, email marketing, marketing automation, landing page optimization and much more.
When you complete the Digital Marketing Specialization you will have a richer understanding of the foundations of the new digital marketing landscape and acquire a new set of stories, concepts, and tools to help you digitally create, distribute, promote and price products and services.
Why this course
2 Months of Instructor-Led Classroom Training

12 Real-Life Case Studies from 5 Industries

2 Live Projects with Real Marketing Spend

150 Hrs of Material & Practice Papers

Resume building and career counselling

Google, HubSpot & DMU certification
You Will Also Learn 25+ Tools Including






We train at






3 months of training, mentoring & certification
4 PM-7 PM on Sat and 10 AM-1 PM on Sun
Paid internship & Job Opportunity
INR 31,000 (instalment option available)
Our trainers
Course Conceptualized by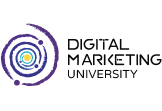 Aji Issac Mathew
CEO, Indus Net TechShu P. Ltd Building Digital Marketing Strategies for businesses since 2002
A+ Grade Course Syllabus
At DMU we focus on actionable advice, so our training sessions help business leaders and professionals learn the core strategic concepts of digital marketing from a business perspective and learn the best practices for digital communications.
Sample certificate
Complete the program successfully and receive a badge and certificate of DMU Professional. You also get an official DMU Alumni Status to be part of a community of Marketing Leaders in India - View Certificate
What our trainees say
I found Mr Rungta's strategy on email marketing quite useful.
Live demonstrations and conceptual assignments gave us a hand on an understanding of the subject.
A real eye-opener to the vast ocean of possibilities that exists in the social media domain.
I was able to implement the structure and strategy right away into the business.
Budgeting is a complex task in digital and these guys have made it extremely simple.
The workshop was exciting and worth every minute. Highly recommended.
Opportunity after completion
You will be eligible for the HR round after the completion of the course. To qualify for the interview, you need to clear the DMU Professional online test and PI. You will get more information about the test post completion of the course.
Frequently Asked Questions