Keynote by Aji Issac at House of Lords, London

Our Chief Mentor, Aji Issac in the panel experts at Realty+

Digital Marketing Workshop in Indonesia with the business leaders
About this course
Even before you touch any tool on Social Media, Google, SEO etc, you must have a clear understanding on how digital marketing strategy works. Without a proper strategy, your entire effort, money and time will go waste. You might have an experience working on the above-mentioned tools, if that is the case, you have an upper hand for sure.
In this course, We will teach you how to identify and implement digital strategies to achieve sustainable and profitable growth. You'll learn how to analyze market and brand data, formulate your growth framework based on digital capabilities and create the implementation roadmap to achieve the objectives. Towards the end of the training, you will be able to create a comprehensive Digital Strategy for an existing business. You might think to yourself… "I have no experience in strategy. How do I drastically increase my value in a short period of time"? You'll learn from our 20+ years' of experience while avoiding our pitfalls. Learn from the pioneers in digital who build strategies for Fortune 500 companies.
Why this course
24 Hrs of Instructor Led Live Interactive Sessions

4 Real Life Case Studies from 4 Industries

2 Live Projects with Real Marketing Spend

50 Hrs of Material & Practice Papers

Qualify and Get an Exciting Job Offer

DMS Expert & Alumni certification
You Will Also Learn 20+ Tools Including






We train at






Should have a basic knowledge of digital
4-6 hrs in 2 days per week
6 weeks of training & mentoring
Pass the DMSC test & qualify for the HR round (not for entrepreneurs)
INR 6000 (Early launch in India, a special discount of 50% on total fees of INR 12000 / $250)
Our trainers
Course Conceptualized by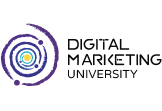 Abhishek Rungta
CEO, Indus Net Technologies Driving Growth in a 800 People Digital Success Company

Aji Issac Mathew
CEO, Indus Net TechShu P. Ltd Building Digital Marketing Strategies for businesses since 2002
A+ Grade Course Syllabus
At DMU we focus on actionable advice, so our training sessions help business leaders and professionals learn the core strategic concepts of digital marketing from a business perspective and learn the best practices for digital communications.
Introduction to Digital Marketing Strategy & Planning
Learn how to develop an effective digital strategy for your organization and gain clear insight into the complexities of planning, strategic management, and reporting.
1 hr lecture, 3 videos to watch, 1 book to read
Lecture: Gain a well-grounded foundation in the key aspects of digital marketing
Lecture: Clearly differentiate between the different types of digital strategy
Lecture & Lecture & Examples: Why most digital Marketers fail in formulating the right strategy?
Lecture: Identify and define your unique business value proposition