About this course
Before you step into the technical aspects of digital, you need to understand the fundamentals first. The Digital Marketing Strategy Course is for those who want to leapfrog in their career by choosing digital as a career growth tool and also for the ones who are already working in digital but not able to produce results. We believe that strategy is the fundamental thing that you must know before getting into the execution part in your campaigns, if you don't know this, your digital marketing learning will go waste. Learn from the pioneers in digital who build strategies for Uber, Unilever, Cadbury's, Fox, Paytm and dozens of the world's finest companies.
Learning Outcomes
24 Hrs of Instructor Led Live Interactive Sessions

4 Real Life Case Studies from 4 Industries

2 Live Projects with Real Marketing Spend

50 Hrs of Material & Practice Papers

Qualify and Get an Exciting Job Offer

Digital Marketing Strategy Expert certificate
Course created by: Aji Issac Mathew, CEO, Indis Net TechShu & Chief Mentor, DigitalMarketingUniversity.com
Beginner to an expert in the digital marketing domain
3-5 hrs in 2 days per week
6 weeks of training & mentoring
8:30 PM alternate days on Weekends OR Sat & Sun
Pass the DMSC test & qualify for the HR round (25 seats)
INR 6000 (15% off on 5 or more seats)
Syllabus
Considering the dynamic nature of digital marketing today, marketing managers need to formulate their digital strategies quite often to improve the revenue on investment for the business. If this is your position, we'd like to help you by supporting you with our knowledge and experience of over 2 decades in the digital ecosystem - we have been helping few of
the world's finest companies create digital strategies since 1997.
At DMU we focus on actionable advice, so our training sessions help individuals learn the core strategic concepts of digital marketing from a business perspective and learn the best practices for digital communications.
Frequently Asked Questions
Instructors
Course Conceptualized by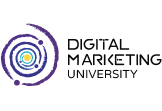 Abhishek Rungta
CEO, Indus Net Technologies University of Bath, UK
Abhishek Rungta
CEO, Indus Net Technologies University of Bath, UK