Digital Marketing Strategy - Program Brief
Why is it that some people are able to make amazing strategies and others are grappling with it. Why some strategies give amazing results than those of the others. Are you using opinion as a strategy or are you using the structure to plan a solid strategy that may churn results? The knowledge that you possess makes a big difference.
In this 4 weeks program, you will touch upon every component of digital to make better decisions while managing a team or an agency. Each lecture of 2 hrs will be followed by a hands-on practical session. The course delivery will be case-based instructor-led live online in a batch of maximum 20 participants.
Lead Training Advisor
Course Conceptualized by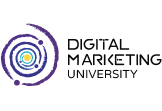 Aji Issac Mathew
CEO, Indus Net TechShu P. Ltd Building Digital Marketing Strategies for businesses since 2002. Know what the participants say about Aji.
Key Takeaways from the Program
16 Hrs of Instructor Led Live Interactive Sessions

5 Case Studies from local business ecosystem

Access to DMU Learning Portal for 3 Months

DMU Professional & Alumni certification

Free Digital Asset Audit Template
Master 25+ Top Digital Marketing Tools






Business leaders, entrepreneurs, marketing heads, channel experts or any decision maker in the business
4-6 hrs in 2 days per week
4 weeks of training & mentoring
Instructor-led Live Online and can be accessed through any device
Flexible to choose from morning or evening batch
Detailed Program Modules
The program is designed by thought leaders, doers who are creating success stories every day and channel researchers who know what are the quick wins of 2019.
This Is Why We Do, What We Do
We've worked with several partners over the years both local, European and international and this is the best team we've encountered by a country mile!
With tough annual target to achieve, we have seen steady growth in our offline and online sales channels, thanks to the team.
For the last 2 years, I am relying on them to scale my business from a few hundred thousand to a few million. They bring diversity in thoughts, the right digital mix.
I am impressed at the targeting the team did, they told me what will work and what will not, it happened just like that, happy not to waste too much money here and there.
Absolutely perfect. While working with the team we realized there is so much opportunity within Amazon itself that we can use.
The very first client them helped us get is one of the multinational corporations into commercial property segment. Impressive indeed.